First of all, thanks to everybody who has already voted in the
Men Quilt Too! competition
, and a double thank you if you've been telling people about the show... and a triple thank you if you ask your friends to vote for my quilt ;)
Next, a big hello to all the new followers who have found my blog through the competition! I am in the process of trying to follow you all back, but Blogger is far from friendly to my screen reading software and it can be very difficult for me to actually find out what your blogs are! Sometimes it'll let me go to your profile page, but more often than not it won't, so I'm just left with your posting name and no way to get to your blog! .... grrrr to Blogger!! .... I'll get there in the end though!
Yesterday Michelle and I went to a local quilt show in Elma, NY, somewhere on the road to Buffalo. It was really well attended, with lots of quilts being exhibited. The preference certainly seemed to be for triangles - there were many examples of triangular and diamond patterns... very few circles or hexagons!
The day certainly started well - there were door prizes and I picked up a fat quarter size of a velvety / fleece type fabric of a purple color along with a selection of 8-or-so hand colored threads, and everyone was able to take a small Christmas tree ornament, so I picked up a red one with a teapot on!
Then I went shopping! First stall was
Carriage Quilt Shoppe
, and I had a nice chat with the owner. I picked 5 fat quarters since it was buy 5 and get 1 free... and then on hearing about my quilt and the Men Quilt Too! competition she let me choose another fat quarter for my next project! ... and when I gave her the link to my blog so she could go see my quilt, she said she will print a copy and display it in the shop! how awesome is that?!
I have a vague idea that the fabrics I got might go with the selection of black and white fabrics that
Thearice of Pigtales and Quilts
sent me when I won a giveaway on her blog! The one on top of the left-hand pile is the extra free one I chose! ... the green batique (if that's how you spell it) might come in handy for the quilt flowers I have in my future projects queue!
I had a nice bowl of French onion soup and some cheesy bacon fries on the way home, but when we stopped to pick up a coffee I couldn't resist challenging myself to beat this Mile High Cheesecake too! mmmmmmmmm, I won!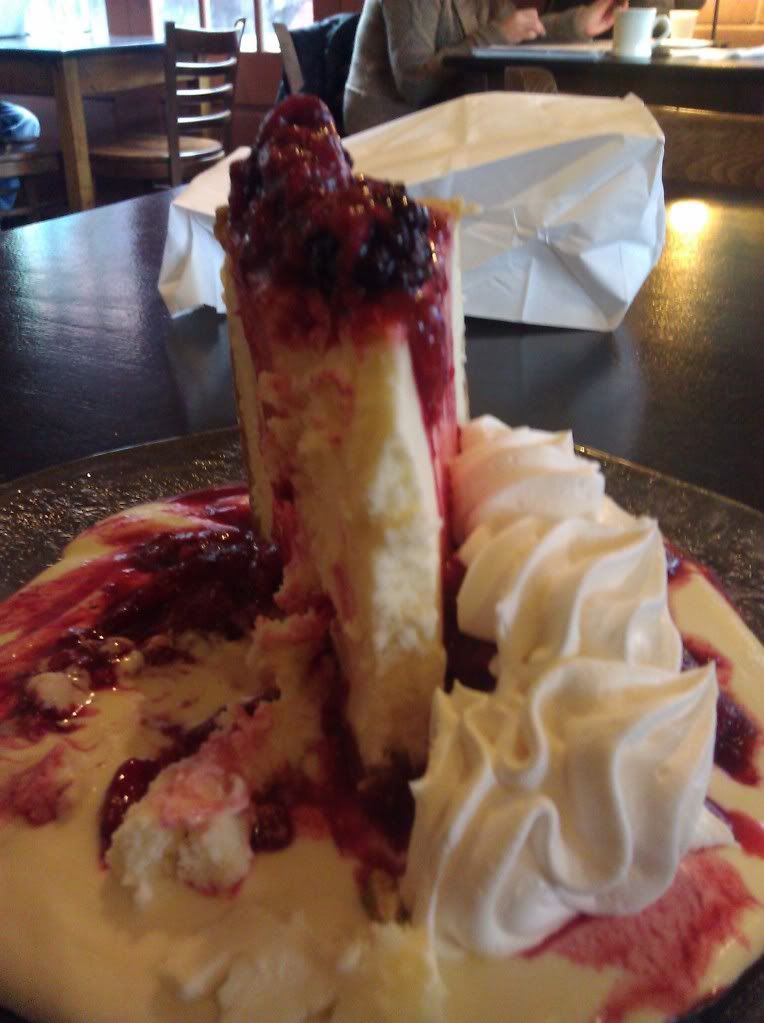 I also brought home a tasty rice krispie treat with chunks of minty Orea cookie in it... I'd show you a photo of that too, but nomnomnom it's gone! that was breakfast ;)