Ok, I couldn't resist ...
Poppy Seed Fabrics
, who I've been following since I think it was a tutorial they did on Madam Sam's Sew We Quilt blog ... well, they announced a 24-hour sale for Cyber Monday. So, all items were 25% off ... and I do love a bargain, and they had some lovely fabrics!
So I now have an etsy account and a bundle of fabric winging its way to me! It's kind of an early Christmas present! ... I found a total of $27 in fabric, saved a wonderful $7 (almost) on the order ... which nearly covered the $9 postage! ... but all in all I think I've got a good deal, even if the postage costs are always the downside of mail ordering!
So here's what I bought... fingers crossed the thumbnails will work even if I've snapped the last sale yards of an item! ... we shall see!
I picked these 2 Robert Kaufman greys. I've always fancied that line of fabrics (they sound nice quality) At $3 each for half a yard of each, you can't really go wrong - $5.50 for a yard of Robert Kaufman after discount!
As for what I'll use them for, well I have no idea, but I thought they might come in handy! (when I die my epitaph will read "I knew this hole in the ground would come in handy one day ... now where's that pillow I was hanging on to?")
Then there was this in the sale section... Tanya Whelan Dolce Bamboo Garden in PINK, 1 YarD for $7. I thought it looked really nice (I could see the pattern on it, even if I can't really tell the colors any more).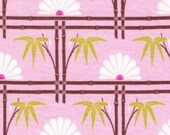 Another sale item... Tina Givens-Opal Owl, TRELLIS IN CHOCOLATE, 1 yard total for $7.75 ... though I'm not quite sure what the total means - there were about 4 different thumbnails on the item page, so it might be I get owls, or it might be I get Japanese style huts, or maybe something else entirely! They all seemed nice though so I thought it well worth the price (about $6 after discount).
And finally, another sale item! (I do like a sale!!) ... Poppy Seed Fabric have quite a lot of Japanese fabrics, and I'm after a few which might work together. This one is little GEISHA DOLLS japanese import , 1 yard for $7 ($5.25 after discount)
So there you have it, a productive Monday's shopping!Hopefully I can put these, plus my recent prize threads, and maybe a pattern or two out of my growing library of (3) quilting books! And don't forget, you can never have too many bits of fabric!!! (or cups of tea!)